Are low interest rates increasing inequality? No, says the world's central bank
Written by

John Hawkins, Senior Lecturer, Canberra School of Politics, Economics and Society and NATSEM, University of Canberra
Phillip Lowe, the governor of the Reserve Bank of Australia, gets many letters and emails from retirees complaining they can't live on the interest from their savings when interest rates are so low.
"I read these letters, many of them are very heartfelt and I feel very bad for the people who are in this situation," he told[1] the House of Representatives standing committee on economics in February. "So I try and say we understand. The second thing I do is explain why we're in this situation."
Low interest rates have other critics.
The idea that central banks have increased wealth inequality by keeping interest rates so low is so widespread[2] that the central bank for central banks, the Bank for International Settlements (BIS), has addressed the issue in its 2021 annual economic report[3].
The argument goes like this.
Low interest rates means potential buyers can afford to borrow more. This pushes up the price of houses. Low interest rates also encourage spending rather than saving, which contributes more to company profits and thus more dividends for shareholders. This increases the value of shares.
These factors benefit those who can afford to own property and shares. So the rich get richer.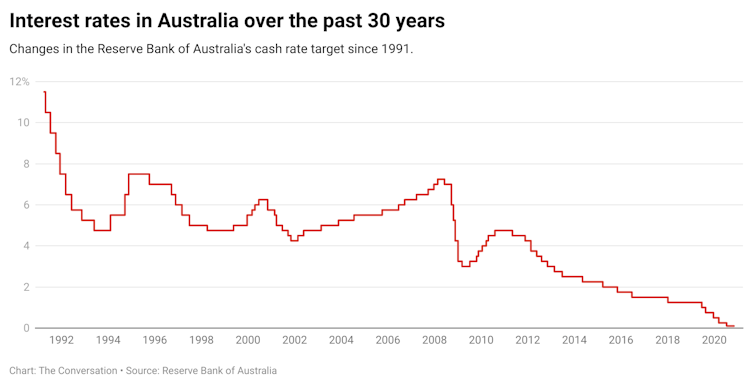 Authors: John Hawkins, Senior Lecturer, Canberra School of Politics, Economics and Society and NATSEM, University of Canberra
Read more https://theconversation.com/are-low-interest-rates-increasing-inequality-no-says-the-worlds-central-bank-163480