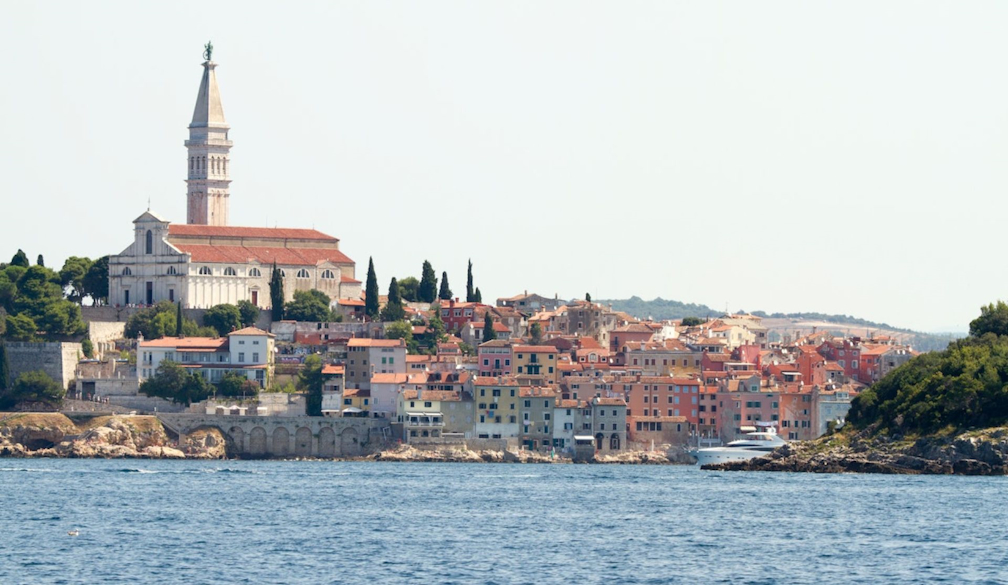 Nestled on the western coast of Croatia, the picturesque town of Rovinj is a hidden gem waiting to be discovered by travelers seeking a blend of history, natural beauty, and coastal charm. With its narrow cobblestone streets, colorful houses, and stunning Adriatic Sea views, Rovinj is a captivating destination that promises an unforgettable experience. In this guide, we'll explore the must-visit attractions in Rovinj and how to reach this enchanting town from Italy.
Rovinj: a jewel on the Adriatic Coast


Old Town:

 start your journey in Rovinj by exploring its Old Town, a maze of winding streets that date back to Roman times. Wander through charming alleyways lined with artisan shops, cafes, and restaurants. Climb to the top of the iconic St. Euphemia's Church bell tower for panoramic views of the town and the sparkling Adriatic Sea.

St. Euphemia's Basilica:

 this Baroque church is a highlight of Rovinj. Its stunning architecture and the towering steeple make it a distinctive landmark. Inside, you'll find a collection of religious art and artifacts, as well as a peaceful atmosphere perfect for reflection.

Balbi's Arch:

 don't miss Balbi's Arch, one of the main entrances to the Old Town. Dating back to the 17th century, this triumphal arch is an architectural marvel that will transport you back in time.

Rovinj Aquarium:

 discover the vibrant marine life of the Adriatic Sea at the Rovinj Aquarium. It's an excellent place for families and marine enthusiasts to learn about the local underwater ecosystem.

Grisia Street:

 art lovers will appreciate Grisia Street, known as the "Street of Artists." It's an open-air gallery where local artists display their works. You can purchase unique pieces of art or simply enjoy the creativity on display.

Exploring Rovinj's Natural Beauty


Lone Bay:

 for a day of relaxation and sunbathing, head to Lone Bay. This pebble beach is surrounded by lush Mediterranean vegetation and offers crystal-clear waters for swimming and snorkeling.

Punta Corrente Park:

 adjacent to Lone Bay, this park is a haven for nature enthusiasts. It boasts hiking and biking trails, as well as shaded areas for picnics. The pristine surroundings make it an ideal spot for enjoying the outdoors.

Lim Fjord:

 just a short drive from Rovinj, Lim Fjord is a stunning natural phenomenon. It's a narrow bay surrounded by steep cliffs and lush forests. Take a boat tour to explore this unique and picturesque location.

Getting to Rovinj from Italy


By car:

 the most convenient way to reach Rovinj from Italy is by car. From Venice, Italy, it's approximately a 3-hour drive. You'll cross the border into Croatia, so be sure to have your passport and any necessary documents ready. The journey takes you through beautiful coastal landscapes and charming villages.

By bus:

 if you prefer public transportation, several bus companies operate routes from various Italian cities to Rovinj. Buses typically take longer than driving but can be a cost-effective option. Check the schedules and routes with bus companies for the most up-to-date information.

By ferry:

 another scenic (and more comfortable) way to reach Rovinj is by ferry from Venice, with companies like 

Venezia Lines

. This option allows you to enjoy breathtaking views of the Adriatic Sea during your journey. Ferries operate seasonally, so check the schedule and book your tickets in advance.
Rovinj's blend of history, natural beauty, and coastal allure makes it a perfect destination for travelers looking to explore a less crowded part of the Adriatic coast. Whether you're wandering through the Old Town's cobblestone streets, basking on the shores of Lone Bay, or savoring fresh seafood in a waterfront restaurant, Rovinj promises an authentic and unforgettable experience. So, pack your bags and embark on an adventure to this Croatian jewel—it's a journey you won't regret.