it might be a marketing ploy, but it also shows leadership
Written by

Bree Hurst, Senior Lecturer, QUT Business School, Queensland University of Technology
If you are neutral in situations of injustice, you have chosen the side of the oppressor. If an elephant has its foot on the tail of a mouse and you say that you are neutral, the mouse will not appreciate your neutrality.
This quote, or part of it, has been circulating on social media this week.
It is attributed to South African Anglican bishop Desmond Tutu in the 1984 book Unexpected News: Reading the Bible with Third World Eyes[1]. So it dates from Tutu's time as a leading opponent of the apartheid system in South Africa, in which only white people were afforded the full rights of citizens.
But in recent days Tutu's quote has encapsulated many people's feelings about what's going on in the United States today.
The killing by Minnesota police of George Floyd, arrested on suspicion of passing a counterfeit $20 bill, has become the latest ignition point for grievances about the systemic overpolicing and extrajudicial killing of African Americans.
Read more: The fury in US cities is rooted in a long history of racist policing, violence and inequality[2]
But the protests involving millions of people across the US and outside of it are fuelled by more than that. These protests are also about the systemic inequities that have recently seen America's poorest communities take the brunt of both health and economic impacts of the COVID-19 pandemic.
So given the Black Lives Matter protests are in part about the failings of American capitalism, how the corporate world is responding is worth talking about.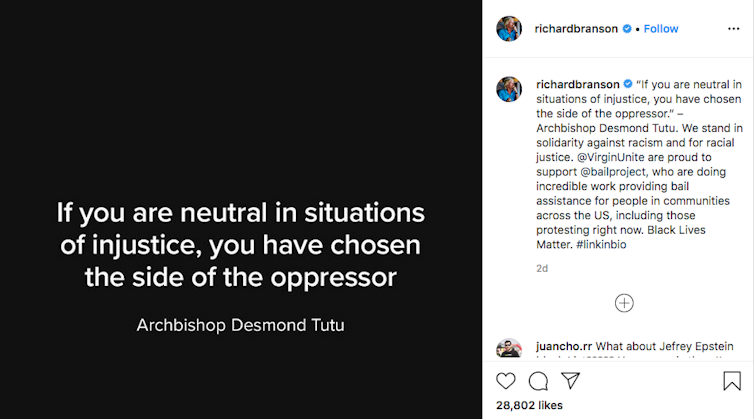 Authors: Bree Hurst, Senior Lecturer, QUT Business School, Queensland University of Technology
Read more https://theconversation.com/brands-backing-black-lives-matter-it-might-be-a-marketing-ploy-but-it-also-shows-leadership-139874