Limiting cash payments to $10,000 is more dangerous than you might think
Written by

Mark McGovern, Visiting Fellow, QUT Business School, Economics and Finance, Queensland University of Technology
We are used to being able to pay for things with legal tender[1].
Other than in special circumstances, refusing to accept cash can have legal consequences[2].
The Currency (Restrictions on the Use of Cash) Bill 2019[3] at present before the Senate seeks to make it an offence to use "too much cash" to pay your bills.
The intent is clearly stated in Section 4[4]:
This Act places restrictions on the use of cash or cash-like products within the Australian economy. The Act imposes criminal offences if an entity makes or accepts cash payments in circumstances that breach the restrictions.
The proposed limit is A$10,000. Section 8 would make it an offence[5] to make or accept cash payments of $10,000 occurring either as one-offs or in a linked sequence.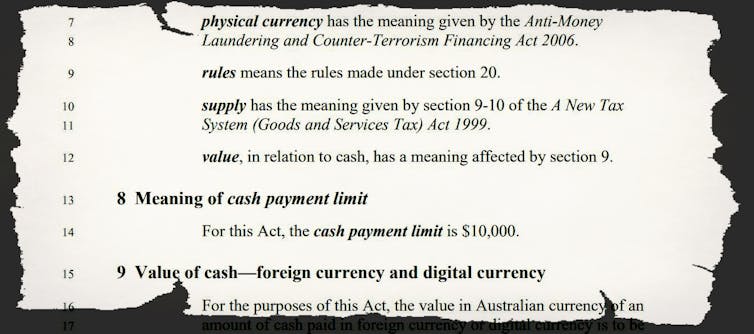 Authors: Mark McGovern, Visiting Fellow, QUT Business School, Economics and Finance, Queensland University of Technology
Read more http://theconversation.com/limiting-cash-payments-to-10-000-is-more-dangerous-than-you-might-think-128094