Robodebt failed its day in court, what now?
Written by

Terry Carney, Emeritus Professor of Law, University of Sydney
Three years after legal experts laid out their reasons why robodebt was wrong in law and wrong in maths, the government has folded its tent, conceding all points just before trial of the test case conducted in the name of 33 year old local government employee Deanne Amato[1].
Deanna Amato found out about her alleged robodebt in January when her full tax return was intercepted and taken from her, all $1709.87 of it. Centrelink said she owed a debt of $2,754 for Austudy support it said she was overpaid while studying in 2012.
It had sent letters to her old address.
Read more: Government makes changes to error-prone robo-debt collection[2]
A week before court orders were finalised on Wednesday, a Centrelink internal email dated November 19 advised that debts would no longer be asserted on the basis of overpayments suggested by data-matched estimates of averaged fortnightly earnings, but only by overpayments calculated on the basis of actual earnings in the relevant fortnights.
All past debts would be "methodically" reviewed, starting with those where people had not previously made contact.
Why the government caved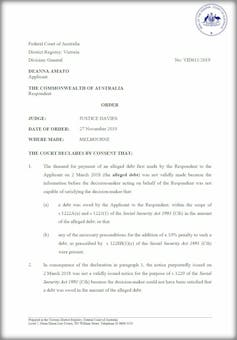 Authors: Terry Carney, Emeritus Professor of Law, University of Sydney
Read more http://theconversation.com/robodebt-failed-its-day-in-court-what-now-127984