From field to store to plate, our farmers are increasingly worried about climate change
Written by

Stephen Bartos, Visiting Fellow, Crawford School of Public Policy, Australian National University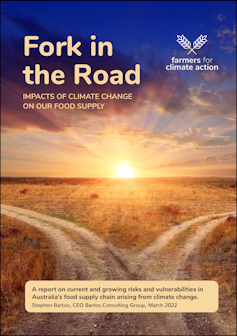 Empty supermarket shelves still shock Australians, who have become accustomed to being able to buy the food they want. But we can expect to see more empty shelves, more often, in coming decades.
Climate change means extreme events such as floods, bushfires and droughts will become more frequent and severe. Those events will disrupt food supply chains, as people along Australia's sodden east coast have seen again in recent weeks.
Australia certainly isn't at risk of running out of food. It produces far more food than it consumes, with around 70%[1] of farm production exported.
What is at risk is Australia's ability to distribute it.
Read more https://theconversation.com/from-field-to-store-to-plate-our-farmers-are-increasingly-worried-about-climate-change-178885