Budget deficit comes in at $10.1 billion, in boost for early return to surplus
Written by

Michelle Grattan, Professorial Fellow, University of Canberra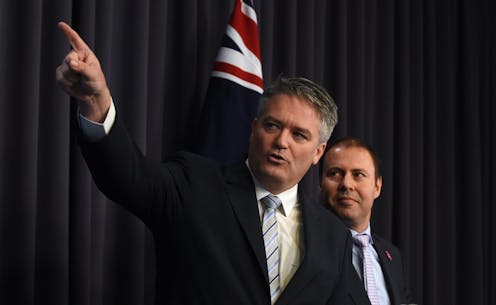 The budget outcome for 2017-18 shows a deficit of A$10.1 billion – dramatically less than expected in May, and just 0.6% of GDP.
In this year's May budget, a mere four months ago, the outcome for the last financial year was forecast to be just over A$18 billion, already revised well down on the more than A$29 billion estimate in the 2017 budget.
The drivers of the better-than-anticipated result were stronger revenue and lower spending than earlier expected.
Treasurer Josh Frydenberg and Finance Minister Mathias Corman said in a statement: "At A$10.1 billion, just 0.6 per cent of gross domestic product (GDP), the underlying cash deficit is the smallest in ten years.
"Stronger economic growth and much stronger employment growth than anticipated at the time of the 2017-18 budget have driven increases in personal income tax and company tax receipts, with total receipts $13.4 billion higher than expected at the time of the budget.
"Total payments were A$6.9 billion lower than forecast at budget time, including as a result of lower welfare payments with more Australians in paid work. Welfare dependency for working age Australians is now at its lowest level in 25 years and in 2017-18, there were 90,000 fewer working age Australians on welfare," they said.
"Real GDP in 2017-18 was stronger than anticipated in the 2017-18 budget."
Last week Standard & Poor's ratings agency reaffirmed Australia's triple A credit rating. Frydenberg said Australia was one of only 10 countries with a AAA credit rating from the three major agencies.
He told a news conference that the budget outcome confirmed the budget was on the path back to balance in 2019-20.
The mid-year budget update will come in December, with the revisions at that time setting the scene for the run into the election a few months later, with the government making economic and fiscal management a key plank in its campaign.
Shadow treasurer Chris Bowen said the final budget outcome "shows the deficit came in almost four times worse than forecast in the Liberal Party's first budget. This is after the Liberal Party's massive cuts to schools, hospitals and the pension."
Authors: Michelle Grattan, Professorial Fellow, University of Canberra
Read more http://theconversation.com/budget-deficit-comes-in-at-10-1-billion-in-boost-for-early-return-to-surplus-103836