Part-time work holds women back from executive positions and accentuates gender pay gap: new data
Written by

Michelle Grattan, Professorial Fellow, University of Canberra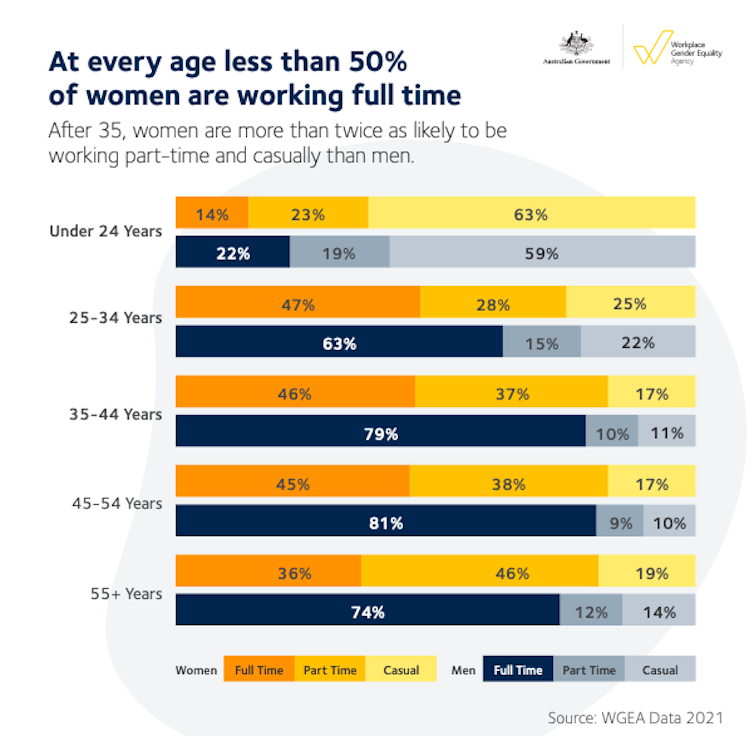 Most women are not working full-time during most of their working lives, which holds them back from management positions and accentuates the pay gap with men, according to data released on Monday.
Men on average out-earn women across all working age groups.
At every age group less than 50% of women were full time in 2021, according to the Wages and Ages: Mapping the Gender Pay Gap by Age data series. This has been issued by the Workplace Gender Equality Agency, a federal government body. The data comes from private sector employers with 100 or more employees.
The divergence in working patterns between men and women starts from age 35, when men are mainly working full time and women mainly working part time or casually. After 35 women are more than twice as likely to work part time and casually than men.
Read more https://theconversation.com/part-time-work-holds-women-back-from-executive-positions-and-accentuates-gender-pay-gap-new-data-185844