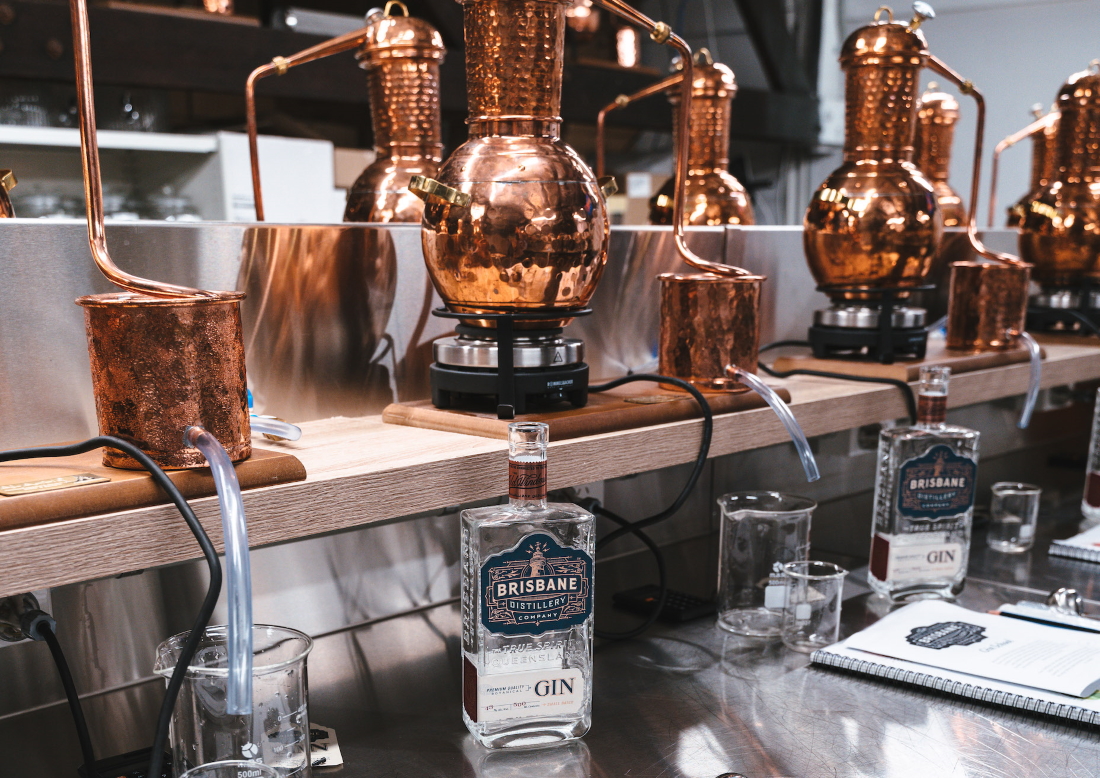 JON ATHERTON, THE MULTIFACETED BUSINESSMAN BEHIND BRISBANE DISTILLERY CO.
From the Army to software to a distillery to sanitiser and back to spirits. The varied career of Brisbane Distillery's Founder, Jon Atherton has been diverse, colourful and now very much focused on pouring gin at his iconic distillery.
With 2020 providing every possible stumbling block to small business, he is also now focused on assisting his community as well as supporting Brisbane's beleaguered hospitality industry.
Like other distillers, Brisbane Distillery Co. paused the production of their alcoholic goods in March to add in a new product line – that of alcohol-based hand sanitiser, growing sales exponentially.
To be able to meet the local community demand, Brisbane Distillery Co. invested in hiring more employees and grew the business workforce from six to 34 in one month alone. Additionally, in the past few months, the factory has fulfilled 15,000 hand sanitiser orders, an incredible production of nearly 200,000 litres in total.
He also donated sanitiser to not-for-profit organisations that work with people experiencing adversity due to poverty, homelessness, mental illness, domestic violence, disability and other forms of discrimination.
Now focused once again on the production of world class spirits, Brisbane Distillery is about to launch a new destinational venue, employing more staff for both front and back of house.
"It's really important to me to make a bold statement at this time that Brisbane's hospitality scene can and will bounce back," says Jon. "Opening the venue will create up to 40 jobs for casual workers which is a step in the right direction."
ABOUT JON
After years studying biotechnology, Mr Atherton joined the Australian Defence Force and worked full time in the Army, graduating as a lieutenant. In 1991, with the internet starting to go mainstream, he decided to leave the commando to start his own business.
The former Australian Army officer decided to fund the creation of a software package to enable e-commerce in hosted sites. After years of growth in sales, he started to invest in building banking and advertising networks for large e-commerce sites in the Gaming and Dating industries.
A few years ago, while travelling through Europe, the entrepreneur was amazed to see so many small distilleries starting out. Taking note of the lack of distilleries in Brisbane, he decided that it was time for the city to have one of its own. "The last distillery in Brisbane had closed down probably 100 years ago," he said.
Having owned different software companies for nearly 30 years, this self-made businessman has had a multitude of experience in entrepreneurship and working closely with people. "I've started all sorts of things, but a brand-new distillery required quite a bit of study", he admits.
Jon travelled to Amsterdam where he attended courses, did practical testing and worked through some recipes which he wanted to use in his gin. The now master distiller was ready to share his ideas, using traditional flavour profiles, Australian botanicals, and some less- familiar tastes.
ABOUT THE DISTILLERY
Having opened less than a year ago, in October 2019, Brisbane Distillery Co. is the Brisbane's first grain to glass gin distillery, offering tastings and bottle sales, with a cocktail bar and state of the art gin school.
Located in West End, the artisan distillery is creating award-winning gins, as well as vodkas and Caribbean-style rhum. Each gin is made using natural Queensland ingredients, and they are as varied as they are complexing - from the classic dry gin Brisbane Dry, and Queensland Dry to Big Red.
As for rhum, the distillery has recently released Batch One of their Brown Snake, a sustainably produced, barrel finished French Caribbean-style agricole rhum, made from locally sourced, first crush virgin sugar cane juice.
For the ultimate gin experience, Brisbane Distillery Co. offers customers the chance to create their own custom gin at Brisbane's only gin school; with over 150 botanicals to choose from including citrus, spices, flowers and herbs.
Environmental considerations are also a factor. The Brisbane Distillery Co. team is constantly working towards more sustainable initiatives. Wherever possible, ingredients are sourced locally and all waste products from the distillery go to livestock.
Additionally, while the operation is currently energy neutral (returning more power to the grid from the 30kW of solar panels on the distillery's roof than they use), the distillery offers a bottle refill service to encourage recycling. Customers can return their empty gin bottle and the distillery will sterilise and refill it.
A brand new (and larger) venue will be launched in the coming weeks, reflecting the exponential success of Atherton's business. But Jon remains humble "Success for me to keep getting happy customers coming in the door to get their bottle refilled".