Airrushlocal and Delivery by Scooti partnership
Written by

Tamara Jenkins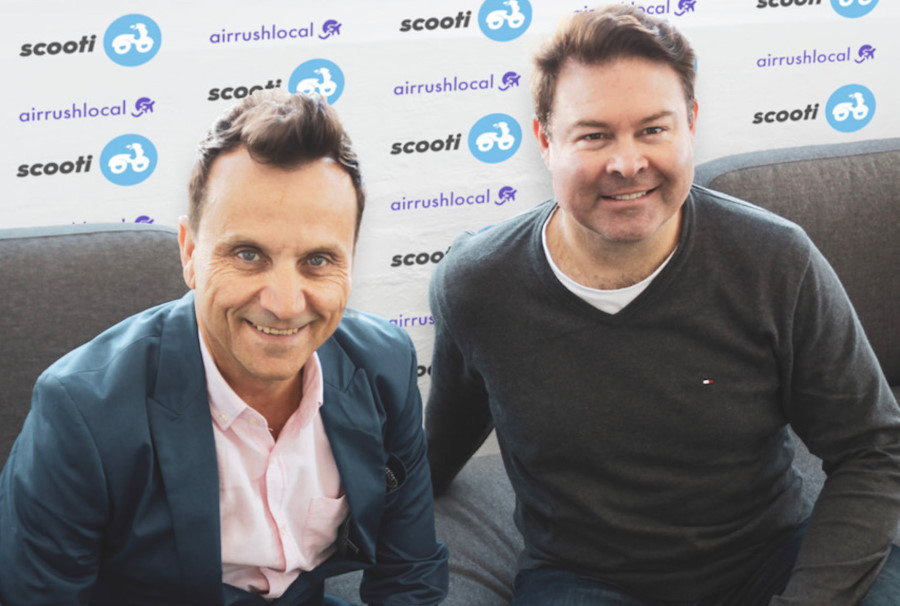 Favours for friends on Facebook sparked the idea for Melbourne start up Airrushlocal – now it has partnered with Delivery by Scooti to make the concept a reality.
The service guarantees same-day interstate deliveries for small personal items and documents (up to 3kg) between Melbourne and Sydney, with plans firmly in place for expansion to other states and countries. Parcels are handled by a personal concierge, who travels with the items to ensure maximum care and security.
Airrushlocal Founder Jake Kogakis said the partnership with Delivery by Scooti means precious time isn't wasted getting parcels from collection to the depot or from the depot to the airport.
"We all know what it's like trying to make a flight in heavy traffic or changed road conditions. We needed to find a way around this, and Delivery by Scooti is perfect for filling this gap," Jake said.
"They have qualified drivers on hand, all who have been vetted for our white-glove point to point delivery service, and the scooters are naturally more nimble than a car or van, which can easily become caught up in traffic congestion.
"We have already secured ongoing contracts with airlines, third-party international airport services, five-star hotels, and car hire companies needing to transfer lost and found items back to distressed customers.
"We still see significant business growth with requests across other verticals like online retailers and third-party logistics services needing 'super express' deliveries.
"While the idea was sparked by friends asking if anyone was travelling between cities for personal items, the opportunity and scope is endless."
Depending on location, the general turnaround time is between four to six hours. The viability of the business is dependent on swift transport on the ground to eliminate hold ups with city traffic.
Delivery by Scooti CEO Brett Balsters said the service was pleased to be able to bring concepts like this to life, and that the essence of Airrushlocal reflected the values of Delivery by Scooti.
"Delivery by Scooti was founded on the idea that you can have your precious items and documents picked up and delivered by courteous and respectful handlers who have been police checked and vetted," Brett said.
"Airrushlocal now provides the link between Scooti Delivery drivers in Melbourne and Sydney, giving customers more reach.
"Whether it's an evening dress that you really need for that night, or a watch you've accidentally left behind in a hotel safe, both Delivery by Scooti and Airrushlocal can ensure it gets back to you safe and sound."
Airrushlocal same-day service is available Monday to Saturday, with deliveries starting from as low as $89. Parcels are accepted for Melbourne departure up until 12.30pm, and in Sydney until 5.30pm (evening delivery).
For more information on Airrushlocal, visit airrushlocal.com.au or call 1800 560 588.