Airtasker releases Australia's first Sharing Economy Monitor
Written by

Harrison Polites

14 September 2015 — Airtasker has set a national benchmark for the growth of the sharing economy trend in Australia, releasing its first bi-annual Sharing Economy Monitor.
Measured by local market research firm Pureprofile, the monitor has revealed that just under half of the population (44.8 per cent) are aware of the companies driving the movement, including AirBnB, Uber and Airtasker.
It also found that approximately 16 per cent of the Australian population have engaged in a sharing economy transaction and that 6.7 per cent of the population have used the sharing economy to earn extra income.
"The figures are incredibly important given the ongoing, national debate around the sharing economy movement in Australia," Airtasker CEO Tim Fung said.
"We have found that more and more everyday Australians are turning to our platform to get more done as attitudes towards getting tasks completed by local workers evolve.
"Time-poor working Australians are now buying themselves time, using Airtasker workers to do everything from everyday tasks like house cleaning to intensive chores like assembling IKEA furniture or moving house.
"Meanwhile, workers are turning to Airtasker to choose their own work and capitalise on the increased flexibility that comes with working in the sharing economy. In the past six months, they have earned millions by completing tasks alone."
The sharing economy trend is less than a decade old but has seen rapid growth around the world. 
For the sake of overseas comparison, the local research harnessed the same methodology as earlier US-focused research from global consultancy firm Pricewaterhousecoopers. 
PwC's research found that roughly 44 per cent of US consumers are aware of the sharing economy and 19 per cent of the US population have engaged in a sharing economy transaction. 
Uber was founded in San Francisco in 2009. AirBnB was founded in San Fransisco in 2009. Both companies officially launched in Australia in 2012. 
Airtasker triples users since March 2014
In addition to releasing its first Sharing Economy Monitor, Airtasker revealed internal user growth figures to demonstrate the speed of this trend. To date, there are roughly 320,000 members on Airtasker, triple the amount of members on the platform in March 2014.

Recent media reports say there are 15,000 drivers on Uber and AirBnB offers 40,000 rooms on its service across Australia.
"Businesses and policy makers need to recognise the growth, potential and the opportunity brought on by this trend," Mr Fung said.
"Our own internal data reveals that the sharing economy is gaining momentum. For example, over 100,000 Australians have joined the Airtasker community over the past six months."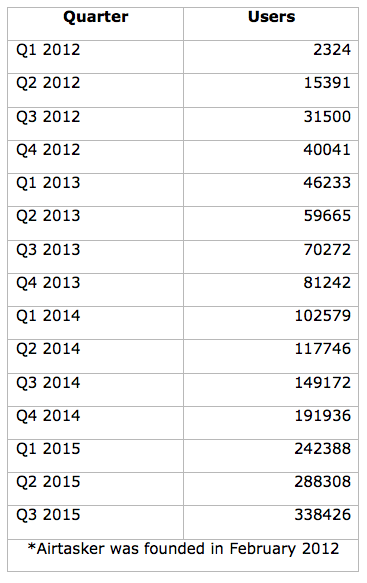 Method: 
Airtasker's Sharing Economy Monitor was conducted by local research firm Pureprofile. It was measured via an online survey of a representative sample of 1000 Australians. 
Case studies: 

John L.
St Kilda, VIC
John, 60, was a tradesman and a marine engineer before working 20 years in the corporate sector for BMW. He's now semi-retired and getting back to his roots doing renovations, electrical work and various handyman jobs. "I've never lost my touch," he says. "I've renovated a lot of my own houses over the years." John says that Airtasker is flexible, transparent and fits in with his lifestyle. 

Tori K. 
Sydney, NSW

Tori, 20, used Airtasker to find work after she finished high school. She worked alongside another friend, who is also an Airtasker, before doing jobs on her own. Some of her favourite tasks include being paid to count adds before a movie -- then watching the movie for free -- and transporting a "huge" dog from Wollongong to Bondi.
 
Mekita F. and Joe S.
Glenroy, VIC
Mekito and Joe are married and like to work on jobs together. Joe: "I work all day, she works on afternoons and we've got two little kids. Sometimes we barely see each other during the week. It allows us to go to different parts of Melbourne we've never been to. It's good for our relationship and each job is a learning experience.
About Airtasker: 
Airtasker is a trusted community marketplace for people to outsource tasks, find local services or complete flexible jobs to earn money – online or via mobile.
Whether it's handyman work, office admin, photography or anything else, users can simply post a task for free and then choose from rated, verified and reviewed people ready to work straight away. Founded in 2012 by entrepreneurs Tim Fung and Jonathan Lui, Airtasker has grown to support more than 330,000 users across Australia and over $20 million worth of tasks are processed on Airtasker per year. 
The author
Harrison Polites

This feature article published in collaboration with MultiViw