Watsons and FWD Celebrate Anniversaries with the Pilot Launch of Retailssure - Asia's First-of-its-Kind Makeup Exchange Assurance Programme
This marks Watsons' 35th anniversary and FWD Group's 10th anniversary
The programme allows Watsons members to shop for makeup worry-free from 8 March 2023
SINGAPORE -
Media OutReach
- 28 March 2023 – Singapore's leading health and beauty retailer, Watsons, is turning 35 this year and is set to kick off the celebration with the momentous launch of Retailssure, a first-of-its-kind makeup exchange assurance programme in Asia in partnership with pan-Asian insurer, FWD, on 8 March 2023.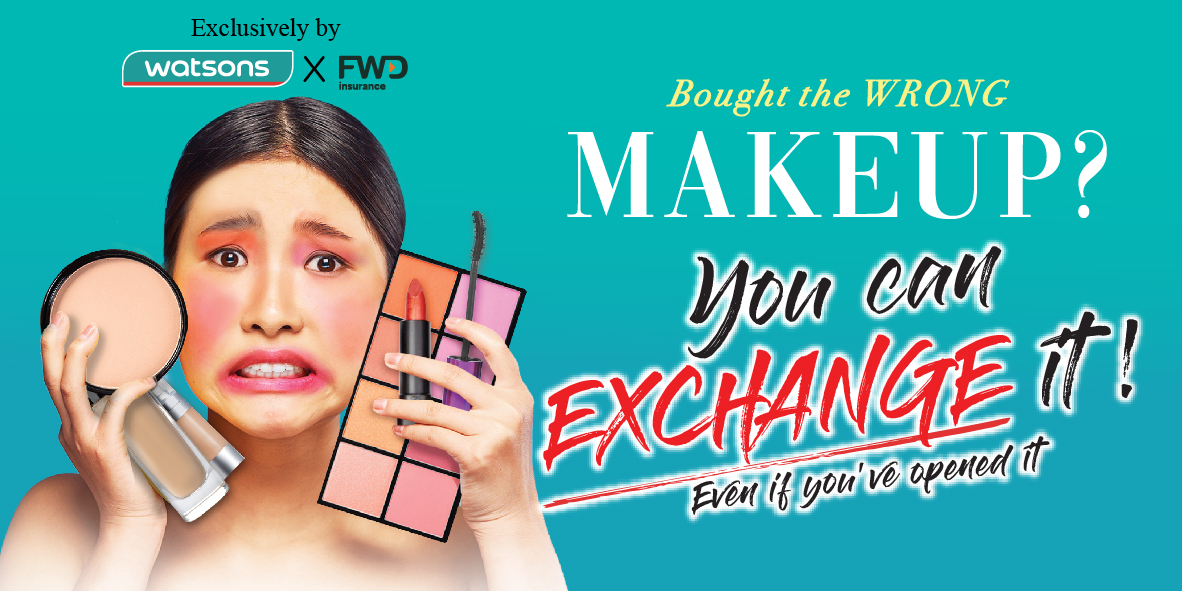 With the support of FWD and in line with Watsons' commitment to set the standards and bring more to its shoppers' lives, Retailssure's trailblazing makeup exchange assurance programme will for the first time allow its shoppers who have bought an unsuitable makeup product in-store or online to exchange it in-store even if it has been opened and tried.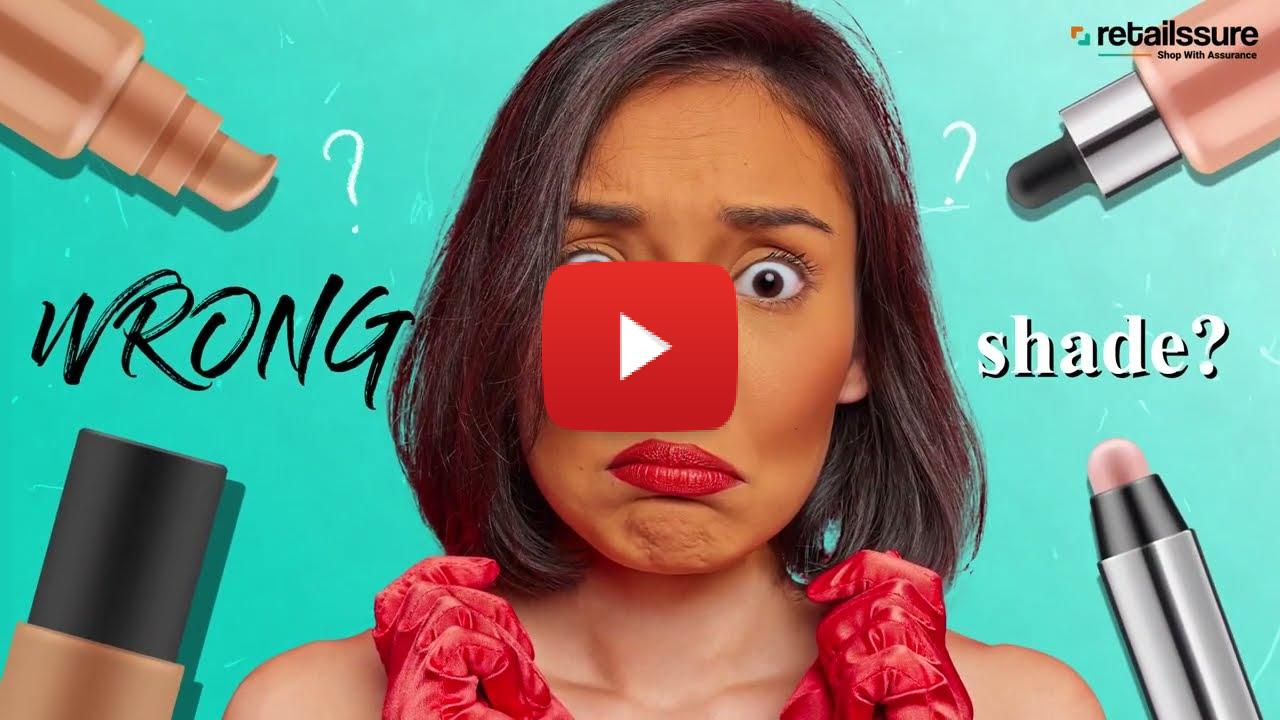 Retailssure's pilot programme will kickstart on 8 March and is applicable for first 5,000 exchanges till 30 June 2023. With its debut on International Women's Day, Watsons also takes the opportunity to call for equity, empowerment and inclusion with its #WatsonsForWomen movement where individuals can leave their thumbprints using different types of makeup shades as the ink of each stamp print is a unique representation for any one regardless of skin colour.
Extended free and exclusively to Watsons' members, Retailssure is set to benefit its members by enabling them to purchase makeup products with assurance and a greater peace of mind by addressing key pain points that makeup shoppers tend to face including wrong colour shades and unsuitable product textures.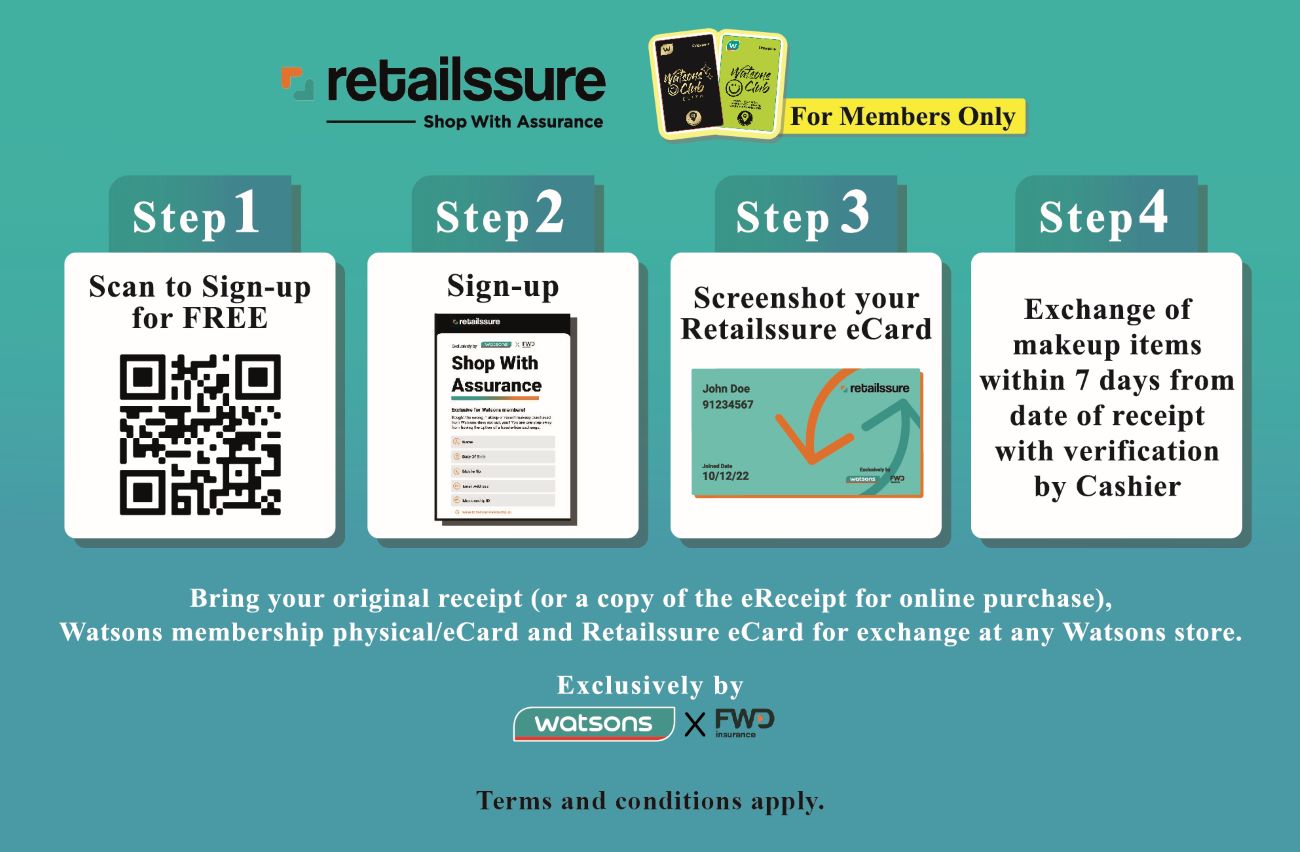 Since the pandemic, shoppers are less comfortable trying out product testers and there are more instances of unsuitable or incorrect purchase of makeup products. In addition, not all makeup products have testers for shoppers to sample and online shopping of makeup products without testing can also lead to erroneous purchases.
As Singaporeans step out of the pandemic and head back out for work and leisure, makeup purchases are on the rise again. With the introduction of a makeup exchange assurance programme like Retailssure, shoppers can enjoy a worry-free shopping experience as they stock up on their makeup essentials. It also increases their confidence to experiment with new makeup and take on different looks for different occasions.
Watsons members can exchange makeup products bought from any Watsons store or online via Watsons eStore that are unsuitable after trying them out within seven calendar days from the date of receipt for in-store purchases or from date of delivery for online orders. For every transaction, one makeup product can be exchanged for another within the same makeup functionality at any Watsons store islandwide.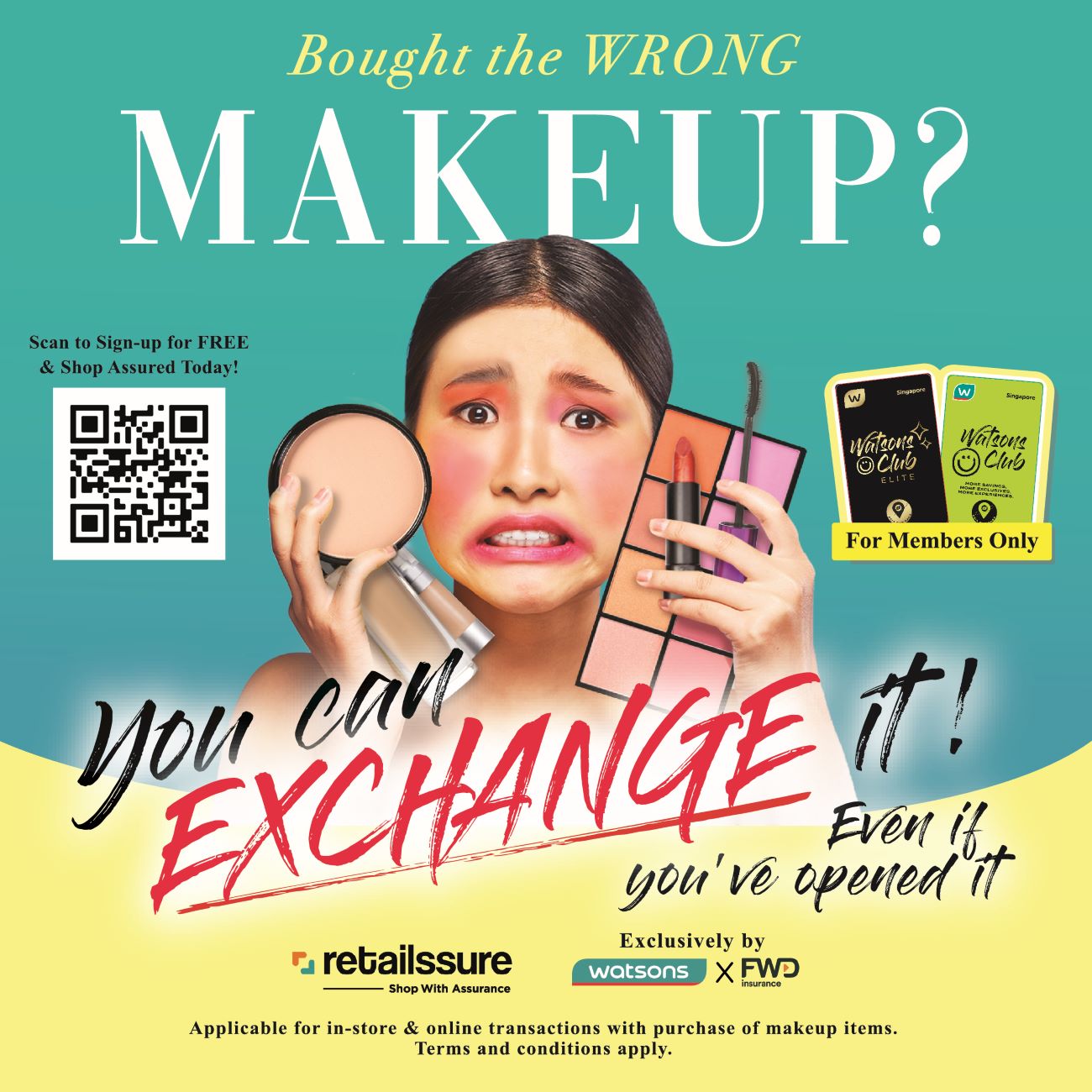 "Even as Watsons turns 35, we are constantly seeking new and innovative ways to meet the evolving needs of our discerning shoppers. Retailssure will empower the retail experience of over one million Watsons members that we currently have, especially when shopping for makeup. With close to 30 reputable makeup brands from all over the world to choose from, and many exclusive to Watsons, we hope that this first-of-its-kind, consumer-oriented programme will increase our shoppers' top-of-mind-recall and elevate Watsons' position as the go-to, accessible retailer for makeup products in Singapore," said Ms Irene Lau, Managing Director of Watsons Singapore.
"At FWD, we strive to make digital insurance more accessible and deliver innovative propositions to customers. Retailssure is another example of how we work closely with partners to meet customers' needs. As FWD turns 10 as a Group, we are excited to embark on this strategic partnership with Watsons to launch this first-of-its-kind innovative makeup exchange programme to meet the needs of their members in Singapore." saidTerence Lim, Group Chief Officer, Digital Commerce, FWD Group.
Adrian Vincent, CEO-Designate of FWD Singapore, added, "Through this programme, we aim to offer a transformative retail experience for customers at Watsons. We are dedicated to empowering customers and encouraging them to enjoy life to the fullest and celebrate living, knowing that we have got their back. We look forward to an exciting partnership with Watsons and more upcoming initiatives to further empower Singaporeans."
In addition to Retailssure, Watsons' 'Colour Me Virtual Makeup Try-on' further empowers its shoppers to shop for makeup and hair colouring products with ease by creating an integrated experience to better serve its shoppers' needs. Via the Watsons App, shoppers can virtually try on makeup or hair colouring products including lipsticks, mascara, eyeshadow, brow colouring and foundation to find the right match in just a few clicks.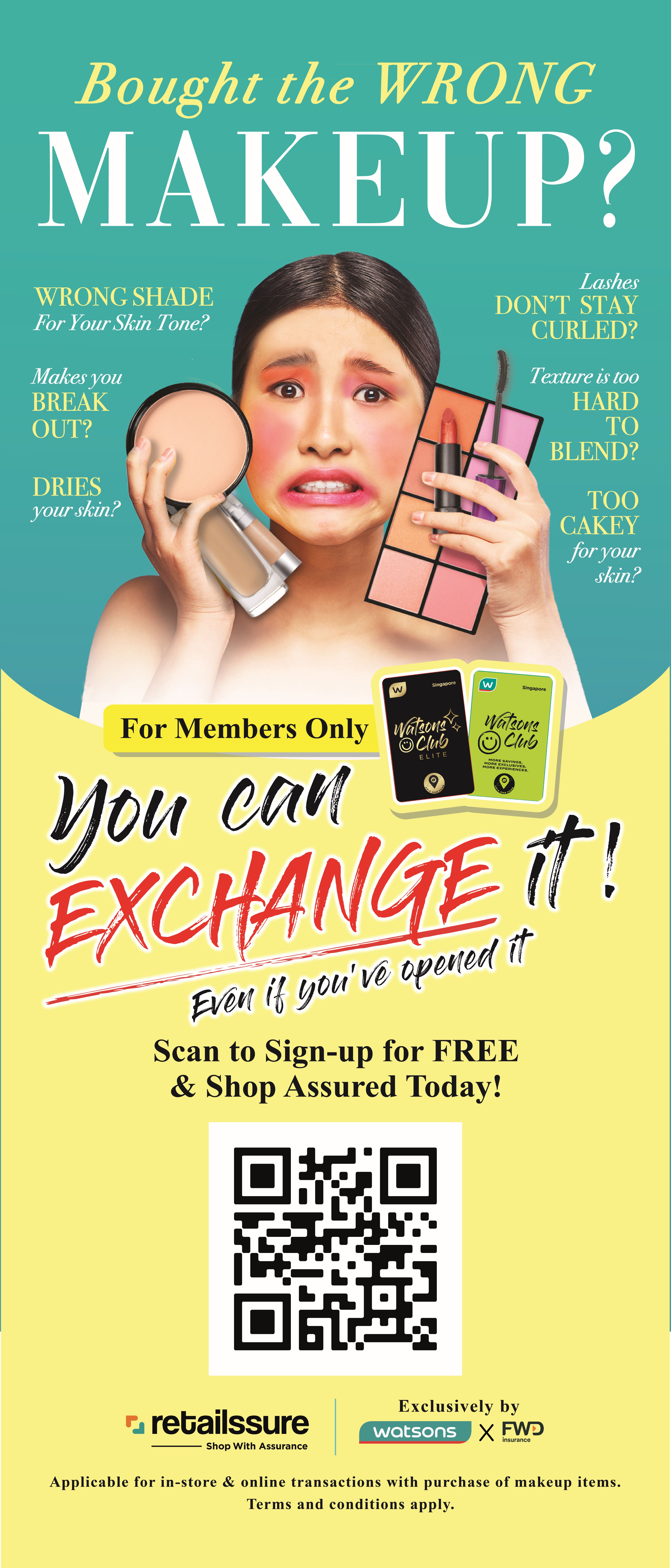 Retailssure Launch Promotion
10 lucky Watsons members stand to win brow grooming and full-face makeover sessions (worth $540.00) when members register on Retailssure and purchase any makeup items at Watsons stores islandwide or online via eStore.
35th Anniversary Promotions
As part of its 35
th
anniversary celebrations, Watsons has special not-to-be-missed promotions lined up from 2 to 29 March 2023:
Hot Buys of up to 50% off on more than 5,400 items, available in-store and online
Collectible limited edition Hello Kitty eco-friendly foldable bag at $4.50 each (for members) and $6.50 each (for non-members) with a minimum $18.00 spend in-store and online While stocks last and limited to 3 pieces per transaction
Brand Week with attractive 35% off popular health, beauty and personal care products from participating brands, available in-store and online
Watsons' member exclusive with additional 5% off selected Sustainable Choice products, available in-store and online
International Women's Day Celebration
As part of Watsons' commitment to support women and address issues such as colourism, there will be a special Women's Day Mural from 7 March 2023 at Watsons Ngee Ann City where Singaporeans are encouraged to pledge their support to the #WatsonsForWomen movement by stamping their thumbprint using inclusive shades of foundations. Each thumbprint will be a unique representation of one's individuality and contribution to the movement towards equity and inclusivity, including the fight against colourism. Watsons believes that every person has the power to make a difference, and by leaving this mark, one will be joining efforts to promote a more equitable and inclusive world for all, regardless of skin colour.
Find Watsons Singapore online and on social media:

Website:
https://www.watsons.com.sg/
Facebook:
https://www.facebook.com/watsons.sg
Instagram:
@watsonssg
Official Hashtags: #WatsonsRetailssure, #WatsonsSG, #WatsonsForWomen


Hashtag: #Watsons #FWD #WatsonsRetailssure #WatsonsSG #WatsonsForWomen
The issuer is solely responsible for the content of this announcement.
About A.S. Watson Group
Established in 1841, A.S. Watson Group is the world's largest international health and beauty retailer operating over 16,300 stores under 12 retail brands in 28 markets, with about 130,000 employees worldwide. For the fiscal year 2021, A.S. Watson Group recorded revenue of US$22 billion. Every year, we are serving over 5.5 billion shoppers via our O+O (Offline plus Online) platforms, providing tech-enabled retail experience to customers offline and online. A.S. Watson Group is also a member of the world-renowned multinational conglomerate CK Hutchison Holdings Limited, which has four core businesses ‐ ports and related services, retail, infrastructure, and telecommunications in over 50 countries. Please visit www.aswatson.com/our-company/o-and-o-strategy/ for more information.

About Watsons Singapore

Watsons is Singapore's leading beauty and health retailer with close to 100 stores located islandwide, including their enhanced health platform with 38 pharmacies located within the key stores. Their aim is to bring more value to customers' lives, and enable them to "look good, do good and feel great". Watsons clinched the top spot for 'Personal Care Store', 'Best Retail Loyalty Card' and won the 'No. 1 in Asia's Top 1000 brands' by Nielsen and Campaign Asia for the 13th consecutive year this year. Watsons is also Retail Asia Awards' winner for 'Health & Beauty Retailer of the Year – Singapore' consecutively from 2021-2022; besides being conferred the title of 2021-2022 Top Employer by Influential Brands and HR Asia Best Companies to Work for by Asia Award 2021.

About FWD Group

FWD Group is a pan-Asian life insurance business with more than 10 million customers across 10 markets, including some of the fastest-growing insurance markets in the world. FWD reached its 10-year anniversary in 2023. The company is focused on making the insurance journey simpler, faster and smoother, with innovative propositions and easy-to-understand products, supported by digital technology. Through this customer-led approach, FWD is committed to changing the way people feel about insurance. Visit www.fwd.com

About FWD Singapore

In Singapore, FWD started operations in 2016 and is one of the first insurers that provides a direct-to-consumer (DTC) platform that allows customers to buy their preferred life and general insurance products directly from our website as well as a network of preferred Financial Advisory (FA) firms for customers who want to speak with an advisor before committing to an insurance plan. For more information, please visit www.fwd.com.sg