R U OK? releases resources to encourage business leaders to build an R U OK? Culture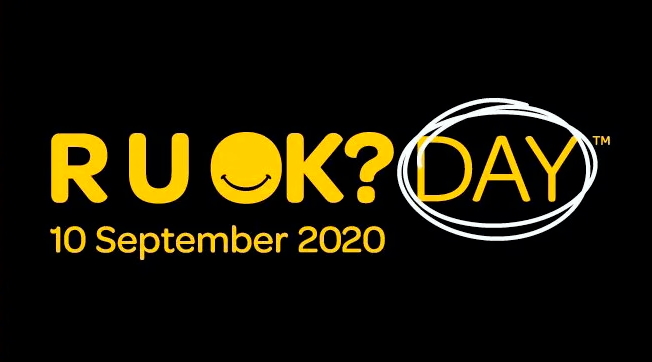 ARE YOU AN R U OK? WORKPLACE CHAMPION? 


R U OK? today released new resources to encourage more business leaders, owners and employees to build an R U OK? Culture in their workplace. 
The R U OK? Workplace Champions Guide promotes peer-to-peer support and regular meaningful conversations amongst colleagues in the workplace. 
R U OK? CEO Katherine Newton says for an R U OK? conversation to be meaningful it must be authentic and involve a level of trust between people who know each other and are familiar with each other's routines and behaviours. 
"When we live, socialise or work closely alongside someone, we can be the first to spot changes that might indicate someone is struggling," said Ms Newton. 
"Many workplaces are beginning to plan their activities for R U OK?Day and we always welcome the positive and vibrant atmosphere this annual day brings. We also encourage organisations to provide opportunities for authentic connections in a quiet, comfortable and safe environment, not only on this day but all year round." 
"Building a culture of asking R U OK? is one action organisations can take that demonstrates they are genuine in their intention to provide a connected workplace for all staff and are serious about providing a mentally healthy workplace and supporting suicide prevention efforts." 
R U OK? recognises that workplace initiatives are often effective when driven by 'Champions' within the workplace. 
"Champions are the 'beating heart' of change and can be the motivating force to drive a commitment to an R U OK? Culture within a workplace," said Ms Newton. "They provide a familiar relevant face and can enhance feelings of belonging and trust. Our new resources will provide a framework to help R U OK? Workplace Champions build an R U OK? Culture." 
An R U OK? Culture is one where employees are encouraged to talk about the challenges they might be experiencing in a judgement free environment where they feel psychologically safe and supported. 
A survey of Australian workers commissioned by R U OK? found only half strongly or moderately agree: 
I feel supported and valued at work (50%) 

My managers genuinely care about their wellbeing (50%) 

When I am at work, I have a sense of connection and feel I belong (51%) 
"We are encouraged that 85% of Australian workers surveyed agreed they would help a workmate who is struggling with life," said Ms Newton. "The next step is to ensure we equip all workers with the skills to navigate a meaningful conversation. 
"This highlights the importance of our message for this year's R U OK?Day which is 'there's more to say after R U OK?'." 
The new free resources include a R U OK? Champions Guide, Workplace Action Plan and Workplace Promise and are designed for any industry across Australia. The R U OK? Workplace Champions resources have been developed with the support of Avis Budget Group. 
There's more to say after R U OK? learn what to say at ruok.org.au 
Download the R U OK? Workplace Champions Guide here 
www.ruok.org.au/workplace-champions