Litigation is the real reason financial reports are becoming harder to read
Written by

Mark Humphery-Jenner, Associate Professor of Finance, UNSW
Westpac can expect a bumper turnout of shareholders at its annual general meeting in Sydney on Thursday, many of them angry at its alleged role in facilitating child exploitation[1] in the Philippines, its 23 million alleged breaches of anti-money-laundering laws, and its initial ritualistic response to the allegations.
This included donating A$18 million[2] to an anti sexual exploitation charity, followed by the departure of its chief executive[3] and the foreshadowed departure of its chairman later in the year.
Read more: How Westpac is alleged to have broken anti-money laundering laws 23 million times[4]
Some of those shareholders will be clutching the bank's 154-page financial statement[5]. They'll need to understand it to ask questions about Westpac's financial performance.
Back at the start of the 2000s, Westpac's financial statement was only 35 pages[6]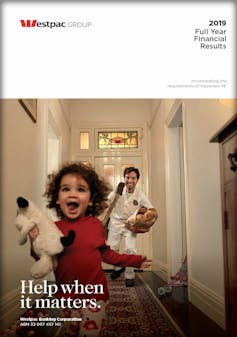 Westpac's 154 page statement of financial results.
[7]
Much of what's been added to statements such as Westpac's has been in response to the threat of litigation. Companies making false or misleading disclosures risk class actions. It's safer to include more rather than less, even if it makes the total hard to navigate.
Australia has just had its first class action judgement[8], after earlier cases that had been settled out of court. The United States has had many.
My own research with colleagues in the United States finds that caution in the face of the threat of litigation has made financial reports increasingly less readable[9] over time.
How might litigation make reports harder to read?
Firms can be sued for making misleading disclosures. This happens most often where shareholders allege that the firm failed to disclose all relevant information, or where it has failed to meet projections.
After such class actions, firms can face increasing difficulties with customers, suppliers and lenders, being seen as less credible. Managers face pay cuts and termination[10].
Read more: Why Australia's first securities class action judgment (sort of) cleared Myer[11]
One way to head off such class actions is to make disclosures more detailed.
Increasing detail enables firms to add caveats, footnotes and nuance, conveying uncertainty – the consequence of which is that their reports are less clear.
How we teased out the link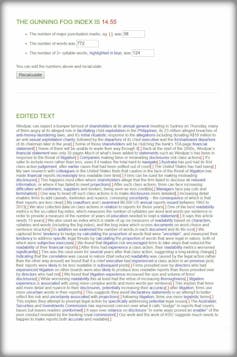 Authors: Mark Humphery-Jenner, Associate Professor of Finance, UNSW
Read more http://theconversation.com/litigation-is-the-real-reason-financial-reports-are-becoming-harder-to-read-127102